An Israeli airstrike on Hamas targets Tuesday who had taken over civilian buildings in the northern Gaza Strip appears to have killed several terrorists — and caused underground tunnels to collapse, apparently expanding the initial damage caused by the strike.
News reports Tuesday claimed, citing Hamas's notorious health ministry, that 400 people had been killed and wounded in an airstrike on the Jabaliya neighborhood in Gaza, known officially as a "refugee camp," though it consists of multi-story buildings.
Hamas later downgraded the estimated number of casualties to 200 — 50 dead, it said, and 150 wounded. Photos showed a scene of collapsed buildings, with reports apparently from residents that some buildings fell into sinkholes that emerged afterwards.
تغطية صحفية: صور جديدة.. دمار هائل ومئات الشــهداء والجرحى بتدمير الاحتلال لحي سكني في مخيم جباليا. pic.twitter.com/oH2U0QlIDa

— شبكة قدس الإخبارية (@qudsn) October 31, 2023
An IDF statement reported that the airstrike had killed a senior Hamas terrorist and "numerous" others, and that it also caused "underground infrastructure" used by Hamas underneath the residential buildings of the area to collapse.
A short while ago, IDF fighter jets, acting on ISA [Israel Security Agency, or Shin Bet] intelligence, killed Ibrahim Biari, the Commander of Hamas' Central Jabaliya Battalion. Biari was one of the leaders responsible for sending "Nukbha" terrorist operatives to Israel to carry out the murderous terror attack on October 7th. Numerous Hamas terrorists were hit in the strike.

Biari oversaw all military operations in the northern Gaza Strip since the IDF entered. He was also responsible for sending the terrorists who carried out the 2004 terrorist attack in the Ashdod Port in which 13 Israelis were murdered, and was responsible for directing rocket fire at Israel, and advancing numerous attacks against the IDF, over the last two decades.

His elimination was carried out as part of a wide-scale strike on terrorists and terror infrastructure belonging to the Central Jabaliya Battalion, which had taken control over civilian buildings in Gaza City. The strike damaged Hamas' command and control in the area, as well as its ability to direct military activity against IDF soldiers operating throughout the Gaza Strip.

As a result of the strike, a large number of terrorists who were with Biari were killed. Underground terror infrastructure embedded beneath the buildings, used by the terrorists, also collapsed after the strike.

The IDF reiterates its call to the residents of the area to move south for their safety.
The IDF has repeatedly warned residents of the northern Gaza Strip, where Jabaliya is situated, to evacuate southwards. Hamas has evidently tried to prevent that evacuation, including by reportedly blocking roads and even shooting at those trying to leave.
Israel lost two combat soldiers, Staff Sgt. Roei Wolf, 20, and Staff Sgt. Lavi Lipshitz, 20, from Modiin.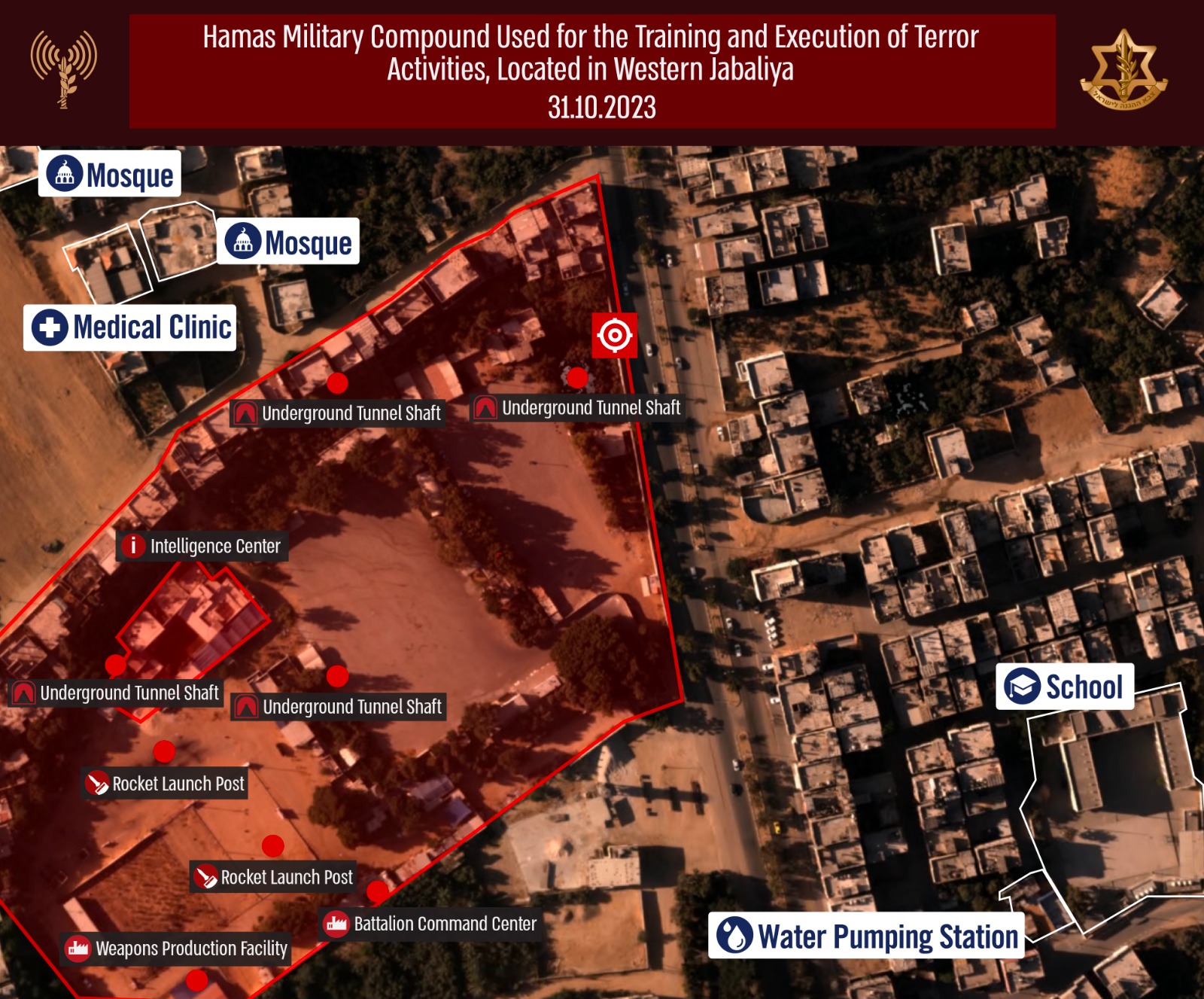 It killed 50 terrorists on Tuesday, according to the Israel Defense Forces (IDF), when the IDF attacked and defeated a Hamas terrorist base (see above).
Joel B. Pollak is Senior Editor-at-Large at Breitbart News and the host of Breitbart News Sunday on Sirius XM Patriot on Sunday evenings from 7 p.m. to 10 p.m. ET (4 p.m. to 7 p.m. PT). He is the author of the new biography, Rhoda: 'Comrade Kadalie, You Are Out of Order'. He is also the author of the recent e-book, Neither Free nor Fair: The 2020 U.S. Presidential Election. He is a winner of the 2018 Robert Novak Journalism Alumni Fellowship. Follow him on Twitter at @joelpollak.