President Joe Biden's lax border policies welcomed roughly 250,000 more illegal migrants during July, bumping up the annual immigrant inflow to nearly one migrant for every American birth.
The record-breaking influx included 132,000 people who crossed the border to be registered and released, plus 51,000 migrants who were invited into border stations by the CBP One cellphone app, plus roughly 30,000 who were allowed to fly in from their home countries via the "parole pathway."
The 250,000 estimate also includes roughly 50,000 so-called "gotaways" who sneak across the border while the border officers are processing the other migrants. These migrants are not deported unless they commit an obvious felony.
WATCH — Chip Roy Torches Mayorkas: He's "Purposefully Endangering Americans"
Matt Perdie / Breitbart News
The massive inflow of illegal and quasi-legal migrants is far above the 2022 inflow achieved by Biden's pro-migration border chief Alejandro Mayorkas when the Title 42 legal barrier was formally in operation.
The border inflows add to the annual legal inflow via the nation's airports of roughly one million immigrants, one million temporary workers, plus a large number of foreigners who use tourist visas to get jobs. The overall inflow of roughly 3.5 million long-term migrants adds up to one legal, illegal, or quasi-legal migrant for each of the roughly 3.6 million Americans born in 2022.
The record-breaking July 2023 influx comes amid summer heat along the border, and after establishment media sites amplified the White House's claim that they had reduced cross-border migration by almost 70 percent. "The Biden administration on Tuesday took a victory lap, declaring that its immigration plan is 'working as intended' nearly a month after a major shift in policy at the nation's southern border," Politico reported on June 6.
Establishment media sites downplayed the July numbers. For example, Jeff Bezos' Washington Post reported, "Families accounted for nearly half of the total 132,652 migrants apprehended in July, compared with less than a third of arrests in June."
The Biden administration has repeatedly announced it favors a large inflow of migrants, preferably traveling from government-run sites in South America and in Central America. "This administration is taking steps to reduce unlawful entries, deny resources to ruthless smuggling organizations, and streamline access to lawful, safe, and orderly pathways for those seeking humanitarian relief," an August 17 statement by Mayorkas's Department of Homeland Security.
WATCH: Gaetz Grills DHS Chief Mayorkas: Illegal Aliens Getting "Disney FastPass into the Country"
House Judiciary GOP / YouTube
The Record Inflow
GOP press releases usually focus on the number of migrants who arrive at the border. This data exclude the 30,000 arrivals via the parole pathway and the roughly 50,000 border-crossing gotaways. This image uses a black line to show the 183,503 migrants who were allowed into the United States under the Title 8 immigration law, as reinterpreted by Mayorkas: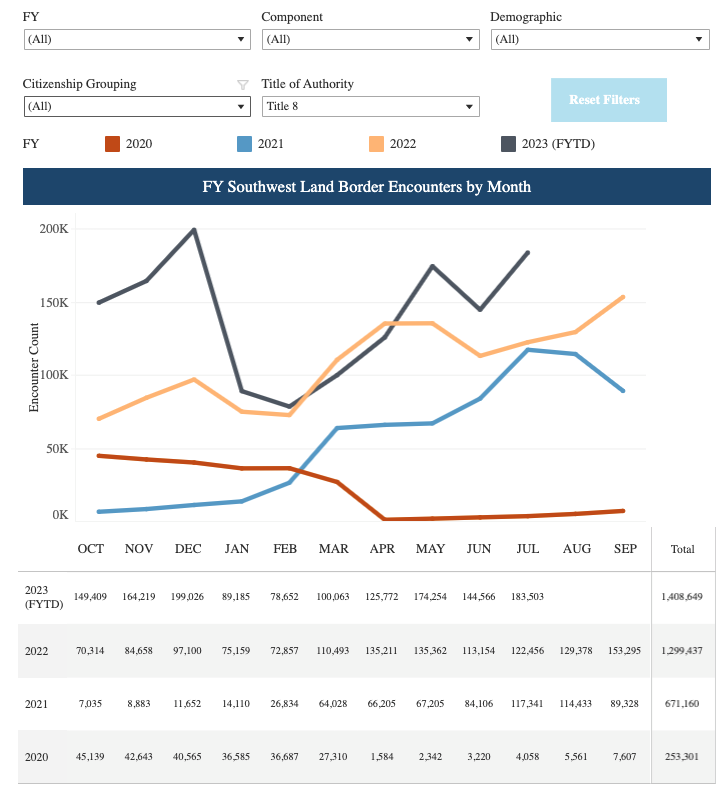 CBO One Pathway
The data also shows how Mayorkas is admitting more illegal migrants via Mayorkas' "CBP One" cellphone app, which is dubbed a "Fastpass" by GOP critics.  The app is used by migrants — and by cartel agents — to schedule appointments at the official border posts where trucks and cars are checked by the Office of Field Operations. The migrants who use the app are not counted in the monthly reports of border patrol arrests, so allowing Mayorkas to reduce the monthly record of border arrests.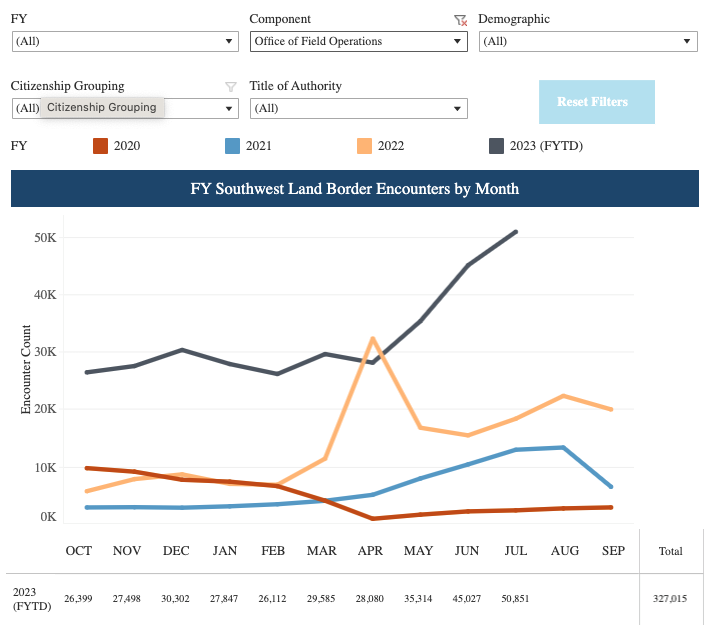 Border Crossers
The data also shows the rising number of migrants who refused to use the CBP One app, and instead walked over the border to get arrested by  U.S. border patrol. They choose to get arrested because they trust Mayorkas will catch and release them to take the jobs and homes needed by Americans. This rising inflow shows that Mayorkas's deputies lied when they promised to deport migrants who did not use the CBP One app.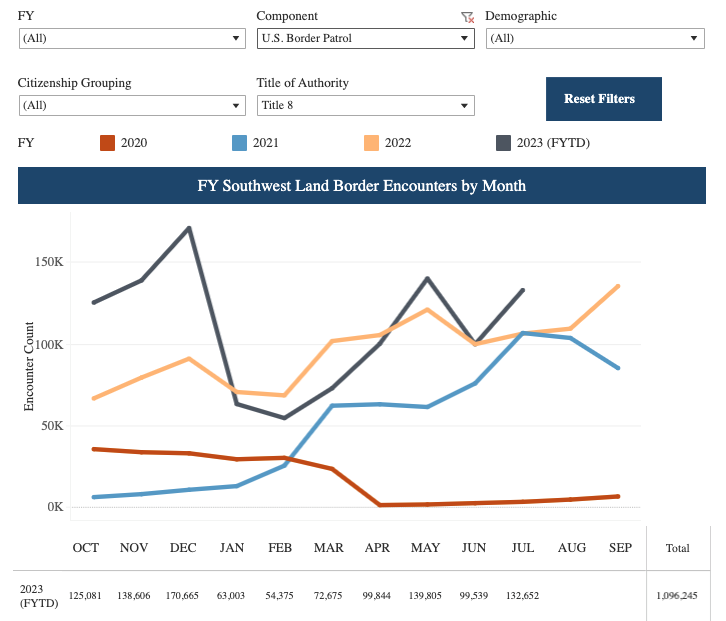 Rising Mexican Migration
The data also shows the rising inflow of 54,000 Mexicans in July, up from just 15,000 Mexicans in April. The expanding pathway from Mexico's stable economy reflects the White House's border security deal with Mexico's president. The deal allows more Mexicans to migrate into U.S. jobs in exchange for a Mexican government promise to prevent uncontrolled surges of migrants that might be broadcast on the evening news.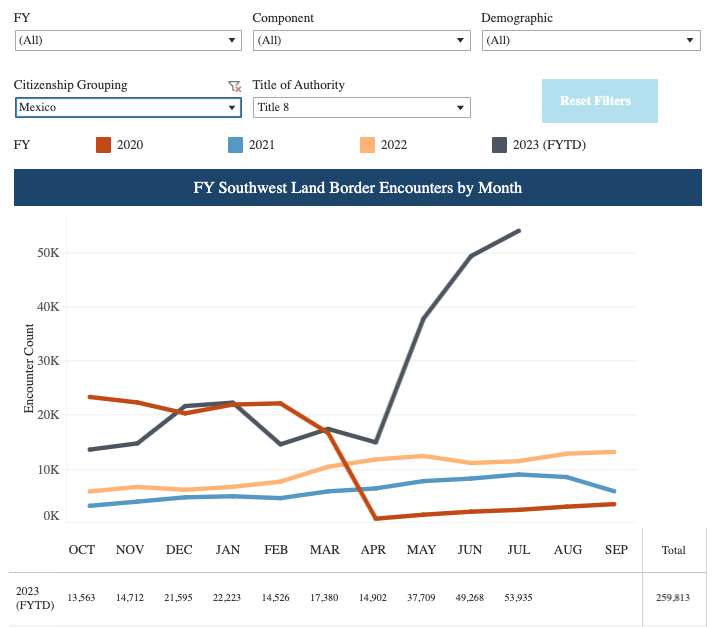 Women and Children
The data also show the rising numbers of mothers and children who are trying to follow their husbands and fathers into American communities. The fathers either sneaked across the border, were let in under various loopholes, or used the Flores border loophole by bringing one of their children.
This category of family migrants is expected to rise because Mayorkas already has roughly 2..5 million migrant men in the United States, including more than 1 million "gotaways." This category of family migrants is expected expect to help spike housing costs, crowd the K-12 classrooms needed by Americans' kids, and accelerate welfare spending via government-funded charities.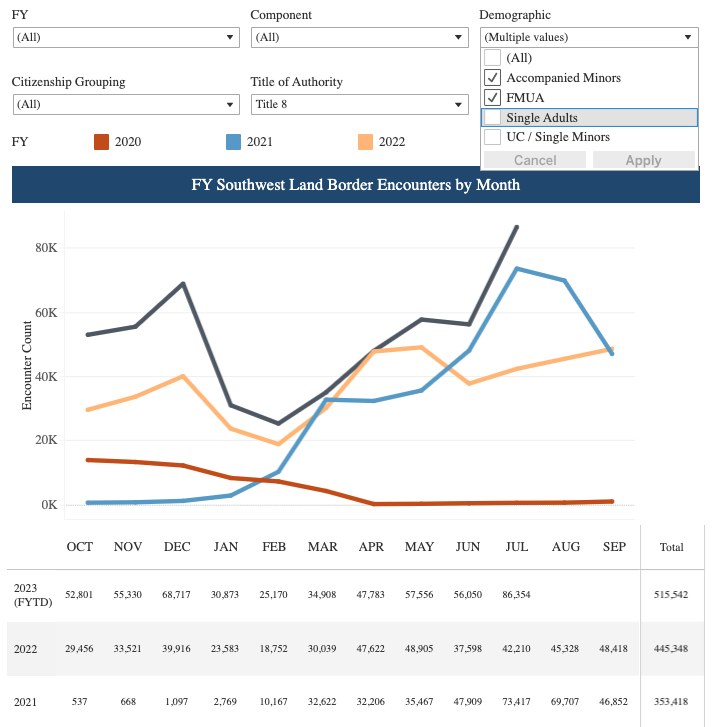 The overall result is a record inflow of economic migrants for jobs and homes, regardless of the administration's PR claims that it is bringing order to the border.
The huge inflow predictably displaces many Americans, forces down wages, pushes up housing prices, and shifts investment and resources away from the heartland states over to the coasts.
The flood across the Mexican border is just part of Biden's easy-migration policy. The policy is intended to help foreign migrants get into the United States, provide investors with more employees, renters, and consumers, and also provide Democrat-run government agencies with more clients and potential voters. The policy also extracts human resources from poor nations — including dictatorships — to inflate values on Wall Street.
Extraction Migration
The federal government has long operated an unpopular economic policy of extraction migration. This colonialism-like policy extracts vast amounts of human resources from needy countries, reduces beneficial trade, and uses the imported workers, renters, and consumers to grow Wall Street and the economy.
The migrant inflow has successfully forced down Americans' wages and also boosted rents and housing prices. The inflow has also pushed many native-born Americans out of careers in a wide variety of business sectors and contributed to the rising death rate of poor Americans.
The lethal policy also sucks jobs and wealth from heartland states by subsidizing coastal investors with a flood of low-wage workers, high-occupancy renters, and government-aided consumers.
The population inflow also reduces the political clout of native-born Americans, because the population replacement allows elites and the establishment to divorce themselves from the needs and interests of ordinary Americans.
In many speeches, border chief Alejandro Mayorkas says he is building a mass migration system to deliver workers to wealthy employers and investors and "equity" to poor foreigners. The nation's border laws are subordinate to elite opinion about "the values of our country" Mayorkas claims.
Migration — and especially, labor migration — is unpopular among swing voters. A 54 percent majority of Americans say Biden is allowing a southern border invasion, according to an August 2022 poll commissioned by the left-of-center National Public Radio (NPR). The 54 percent "invasion" majority included 76 percent of Republicans, 46 percent of independents, and even 40 percent of Democrats.